GAME VARIATIONS
Full Metal Planète à la carte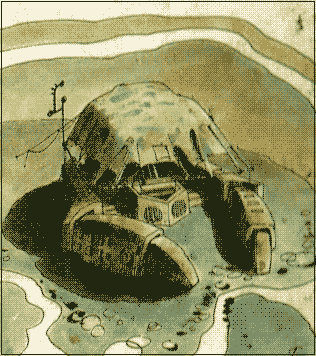 1. PEACEFUL GAME
Leave all destroyers (tanks, heaps, high-speed motorboats) out of the game and see who collects the most ore. No combat or capturing is allowed!
2. TOTAL WAR
Remove all ore from the game and fight until there is only one player left. If you try this variant, you might consider not to remove the destroyed units, but to place them in reserve instead so that they can be rebuilt with Weather Hen.
3. HECTIC
Reduce the time limit - one minute per turn. And remember, the next players timer starts immediately when the previous player has finished his turn (either by using up all his/her Action Points or by running out of time).
4. DIFFERENTLY SIZED SECTOR
Do not unfold the playing field completely. Use only one or two of the three "sides". Alternatively, if you have more than one board, place them side by side for a bigger planet.
5. PENALTY
If at the end of the turn two tanks are on adjacent mountain hexes, on the next turn the player loses five Action Points. The computer versions of Full Metal Planète use this rule.
6. BLAST RADIUS
If a Freighter takes off on the 21st turn, all the pieces on its landing area are buried (and removed from the game), the same way as ore is buried when landing.
7. HIGH ACTIVITY
Experienced players can decide to use more than 15 Action Points for the base credit. Try using 20 or 25 turns for a really lively game.
8. REINFORCEMENTS
PRINCIPLE:
Turns are played in a normal way, but on tun 15 each player lands a new Freighter with complete set of units. The second Freighters stay on the planet until turn 21 or 25 as usual.
UNITS AND ITEMS:
Each Freighter will land with a complete army (1 barge, 1 crab, 1 Weather Hen, 1 pontoon, 1 Heap, 2 high-speed motorboats and 4 tanks)
The reserve pieces storage is not filled
No need to hide it from you any longer:the use of two Freighers per player requires TWO sets of Full Metal Planète games
It is preferable to use two game boards, or additional modular pieces (the expansion set)
HOW TO USE THE SECOND FREIGHTER:
When the last player has played his/her 14th turn, the tide card for the 15th turn will be revealed and the players will then land their second Freighters (in three minutes time)
Some restrictions apply:
There must be at least five hexes between any two (own or enemy) Freighters (measured from pod to pod)
It is impossible to land a Freighter on an unit or inside an unfriendly fire zone
All ore pieces three hexes from the Freighter are removed
DEPLOYMENT:
When all Freighers have landed, some or all units may be unloaded. All units must be unloaded on Freighter's adjacent hexes.
No units may be deployed inside unfriendly fire zones.
MOVEMENT:
When the landing and unloading is done, the 15th turn begins. The new first player will be chosen, and turn will proceed clockwise.
Only 5 actions points are available on this turn.
16TH TURN:
Only 10 actions points are available on this turn.
17TH AND SUCCEEDING TURNS:
Each player who has two Freighers has base credit of 20 points on each turn (5 additional points per extra Freighter)
If player's original Freighter was captured before the 15th turn, he/she now has only 15 actions points per turn.